Toronto's longest running annual multi-arts fashion event Fashion Art Toronto (FAT) will return with a three-day in-person event at Design Exchange (234 Bay St.). Taking place from Friday, May 6 through Sunday, May 8. The 2022 event will host runway shows from 40 Canadian designers and feature fashion-inspired art installations. New this season, Fashion Art Toronto has partnered with Canadian designer popup INLAND who will present its Spring retail popup featuring 40 Canadian retail brands throughout the weekend. Our Faces of FAT series will take a deeper look at the designers behind the collections and their stories. Check out FAT's Instagram for updates on the fashion festival.
Designer: Sarah Power, Founder of INLAND
Website: https://madeinland.ca/
Instagram: IG @made_inland , FB @madeinland
Shopping Hours: Friday 3-9, Saturday 12-9 and Sunday 12-8. The INLAND is free admission.
SC: What inspires you?
SP: I'm inspired by bravery and truth. Having worked with over 500 Canadian fashion and design brands since launching INLAND, I am constantly in awe of our local creator community. Their stories are real and honest and infused with so much courage. I'm not a designer myself, but I know that starting and sustaining a fashion collection is incredibly challenging. Whether a wearable art piece or cozy sweats, fashion expresses the deepest parts of ourselves. How we perceive our bodies, sexuality, gender, culture – the list goes on. It's a very daring endeavor to be a creative interpreter of our times, to make clothing that reflects and communicates all of these complex components of the wearer. I have the deepest respect for designers. They provide us with the means to discover, reveal, and sometimes even protect, who we really are.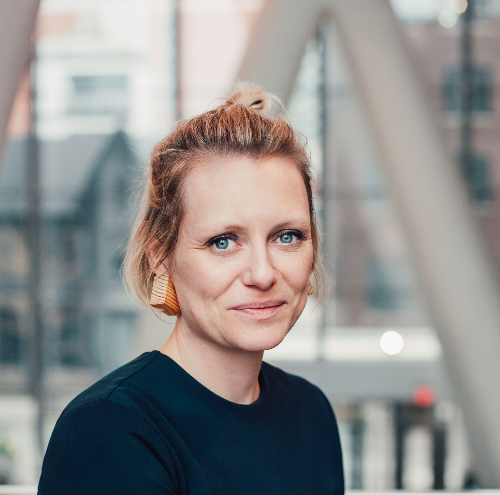 SC: Tell us the story behind your brand/ art.
SP: INLAND is a shopping community for Canadian designers and for those who celebrate them. A curated marketplace, INLAND showcases slow fashion, accessory, and jewelry brands that are thoughtfully designed and crafted. Founded in 2014, INLAND has created space, originally through pop-ups, and now virtually, to discover and shop from Canada's most defining new designers. By promoting sustainable collections, advocating for diverse representation, and empowering local voices, INLAND makes it easy for fashion-lovers to feel good about their everyday wardrobe choices.
SC: What's one piece of advice you would give someone starting out in your field?
SP: Build (or find) your community, take chances, challenge the status quo, and create with purpose.
SC: What do you love most about FAT?
SP: Fashion Art Toronto pushes boundaries, provokes thoughtful dialogue, and immerses the community into a delicious space of creativity and expression like no other fashion event in Canada. Whenever I'm at FAT, I feel energized and inspired. It's a full sensory experience that reflects who we are as a culture; dynamic, diverse and experimental. It's wonderful.
SC: What does 2022 hold for you?
SP: This year I'm excited that INLAND is re-emerging with in-person popup events. We need that as a community, to have pure and honest spaces to connect and celebrate. Fashion is such a critical and empowering medium of expression; socially, politically and emotionally. We've all been hiding behind our devices for years now so I'm thrilled to be able to provide a place for brands and fans to come together again.
Last modified: April 5, 2022